#115: Amie Enriquez - Anti-Life Jacket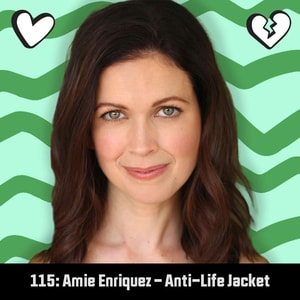 This is Love Hurts. I'm Bryan Berlin. Amie Enriquez is a playwright and actress living in Los Angeles. Growing up, Amie had a sometimes difficult relationship with food, but that relationship morphed after a traumatic experience. From that point on, she did her best to pretend everything was fine, even though it wasn't. 
This episode talks about disordered eating and mentions suicidal thoughts. For support and resources on eating disorders, visit NEDA. To reach the national suicide prevention hotline, dial 988.
I'm performing my new, hour-long show about my love/hate relationship with running in this year's Frigid NYC Fringe Festival. I'll be performing 5 shows from February 17th-March 4th. Buy tickets here. 
Amie is also performing her show, Lightweight, in this festival. Buy tickets here. 
Our theme song is EmoTown by Mikki Hommel. Follow Love Hurts on Instagram, Facebook, and Twitter, and rate and review it on Apple Podcasts!
Support Love Hurts by contributing to their tip jar: https://tips.pinecast.com/jar/love-hurts
Find out more at http://lovehurtspodcast.com